Movement
Black American History
Written and reviewed by Black scholars and experts, Movement, examines the cultural, social, political, and economic contributions, stories, and movements of Black Americans. Offered as both a five-volume series and a beautiful, hardback textbook, Movement highlights the obstacles, triumphs, and cultural contributions of Black Americans who have shaped US history.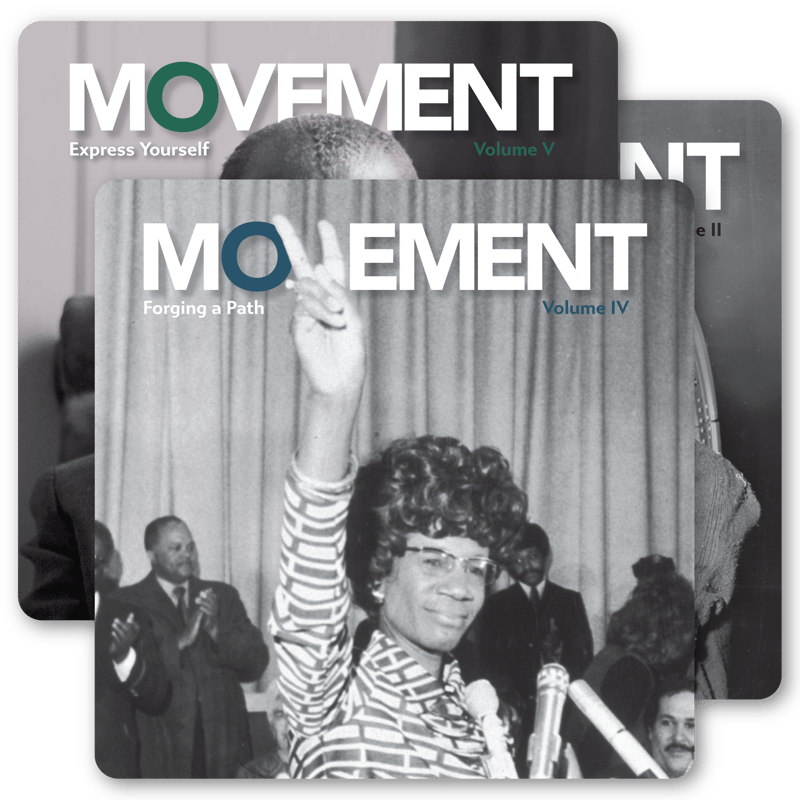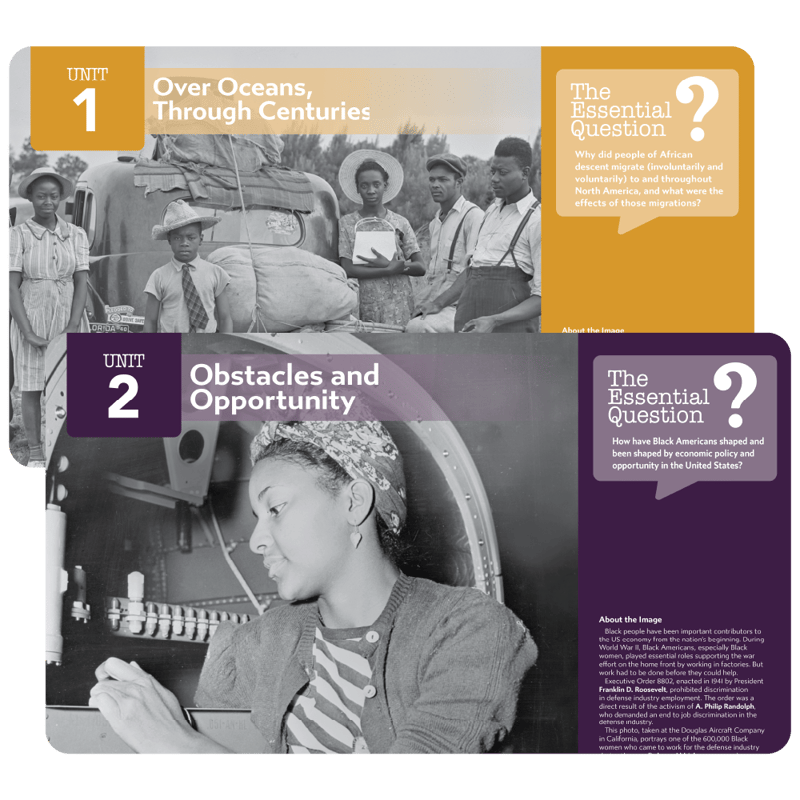 Resistance and Resilience
Movement examines cultural, social, political, and economic movements of Black people in the United States. Students will learn about the varied, poignant, and inspirational ways Black people have shaped our history and heritage.
The Word "Movement" Suggests Flow, Rhythm, Power, and Beauty
A movement can be a stirring piece of music or an emotional inspiration. It can travel across oceans or trek with a family to a new town. With movement, buildings can topple as the earth shifts, or there can be a silent inward journey of personal transformation.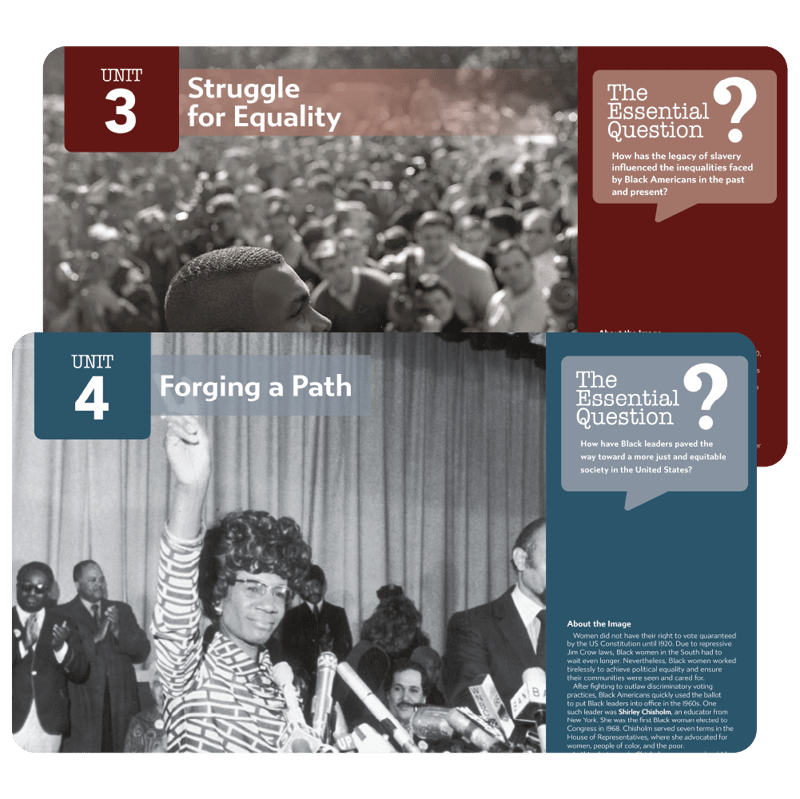 What's Inside Movement?
Each volume of Movement examines an Essential Question through the lenses of history, economics, civics, geography, and culture. The curriculum features in both the Student Edition and Teacher Materials emphasize skills used to understand and interpret the diverse perspectives, events, and contributions of Black Americans that have shaped the United States. Each unit celebrates Black artists, writers, and leaders, explores injustice and progress, and scaffolds historical thinking skills.

Use the

buttons to explore.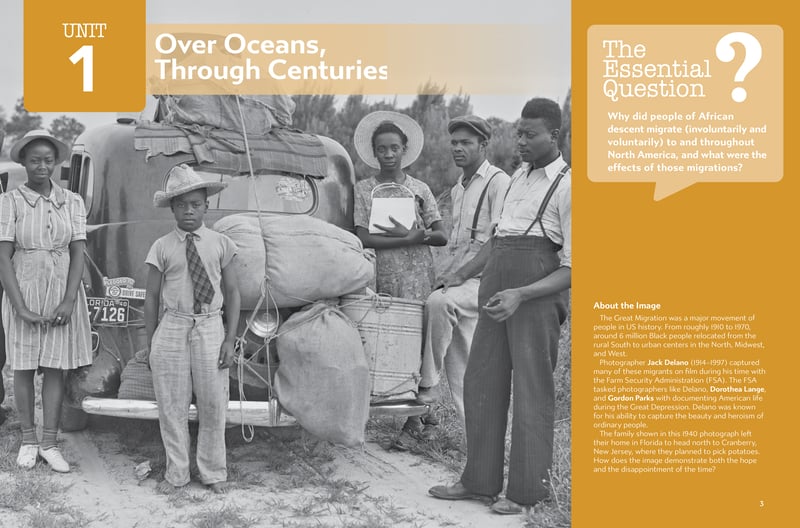 Unit I: Over Oceans, Through Centuries
Investigate the effects of people of African descent moving (both involuntarily and voluntarily) to and through North America. Features include:
• Black Americans and the West—from Black Cowboys to Buffalo Soldiers
• Reverse Migration—a modern return to the South
• Literary Luminaries—poets include Paul Laurence Dunbar, Langston Hughes, Maya Angelou, Amanda Gorman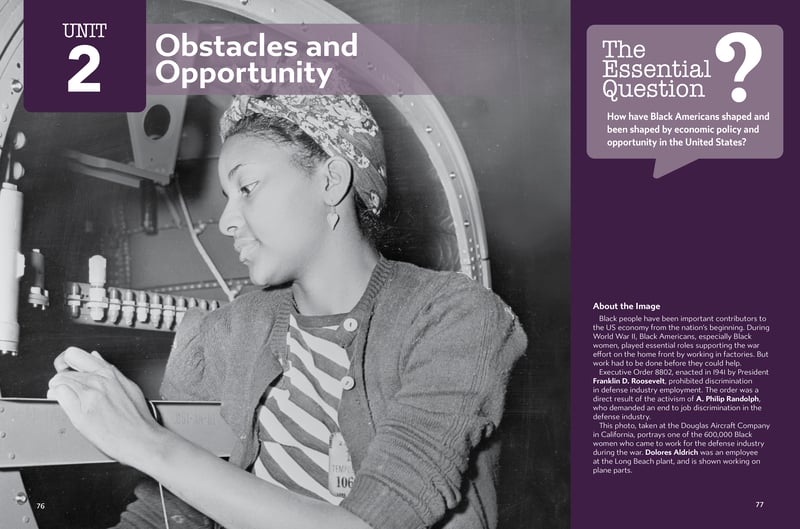 Unit 2: Obstacles and Opportunities
Analyze how Black Americans have shaped and been shaped by economic policy and opportunity. Articles include:
• Black Inventors—with the likes of Sarah Goode, Alice Ball, and Patricia Bath
• Into the Archives—the Black Panther Party, "To Feed Our Children,"
• Black Songwriters—including Nina Simone, Stevie Wonder, Tupac Shakur, Alicia Keys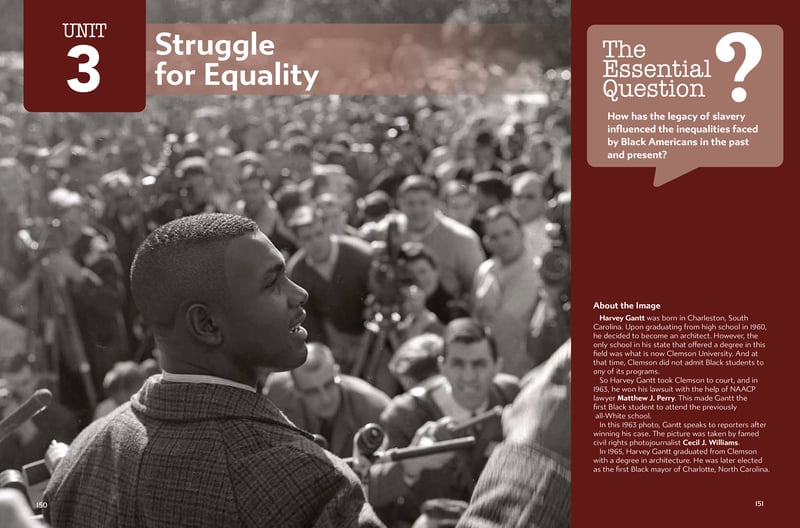 Unit 3: Struggle for Equality
Examine the legacy of slavery and how it influenced the inequalities that Black Americans faced in the past and present day.
• The Myth of Race—race as a social construct and its impacts
• Inequality in the Criminal Justice System—the 13th amendment and convict leasing, racial profiling, and the impacts of crime and drug policies
• Art Analysis—Gordon Parks' social justice photography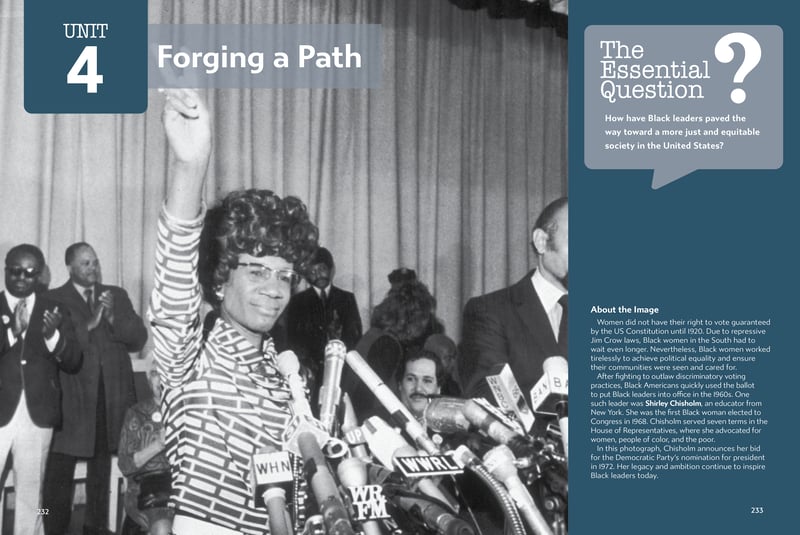 Unit 4: Forging a Path
Delve into the stories of Black leaders who paved the way toward a more just and equitable society in the United States.
• The Niagara Movement—Black activists in the Progressive Era
• Political Leadership—Hiram Revels, Shirley Chisholm, L. Douglas Wilder, Condoleezza Rice, Barack Obama, Kamala Harris
• Black Americans in War—from the Revolutionary War to Afghanistan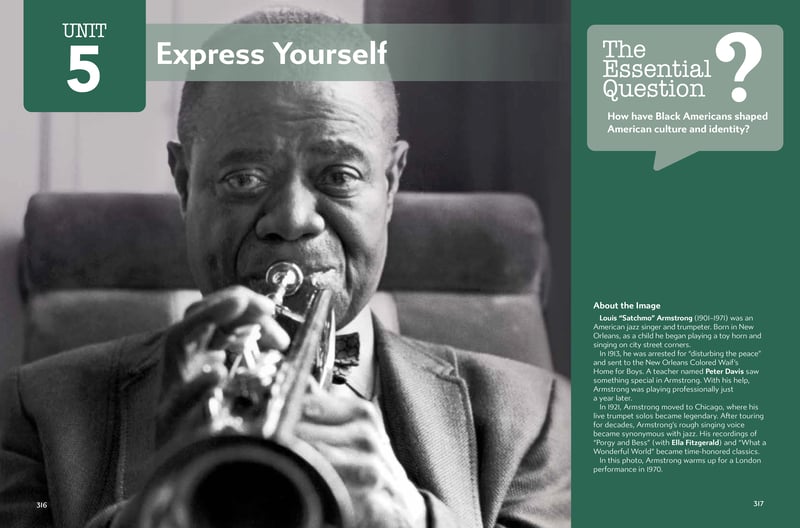 Unit 5: Express Yourself
Explore the many ways that Black Americans have shaped our art, music, culture, and identity.
• The Black Church—from Great Awakenings through the Civil Rights Movement
• Hip-Hop Music—the evolution of styles, East Coast v. West Coast, rap music, expansion into a global phenomenon
• Black Media—from Soul Train, BET, Oprah through Jordan Peele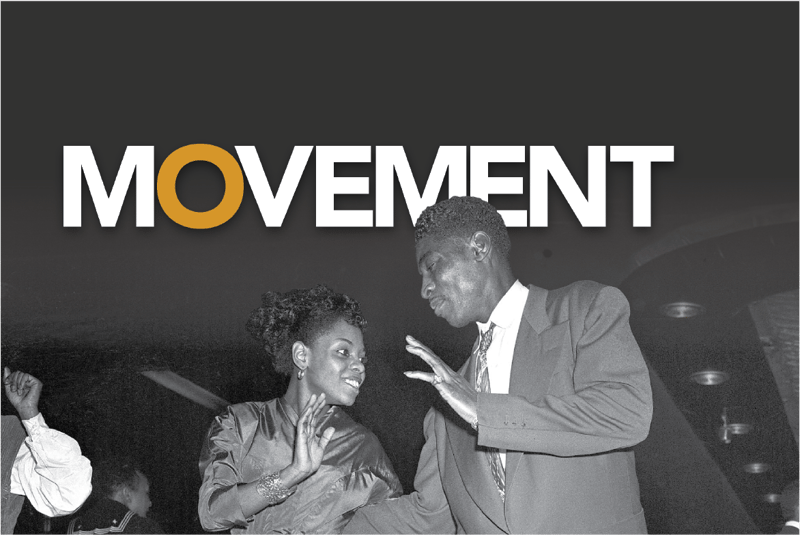 Movement Textbook Edition
Movement endorses the AP African American Studies curriculum with an interdisciplinary study of Black Americans' contributions and experiences across various fields. It traces the historical journey from African ancestry to modern achievements, delving into how geography, economy, politics, literature, and art influence Black culture. Movement offers a comprehensive and engaging resource for AP African American Studies.
Movement

Textbook Version
A complete interdisciplinary exploration of the historical and cultural impact of Black Americans from ancient Africa to modern times.
5-Volume Collection
Purchase the entire collection at once with our five-volume set of Movement, now available as a convenient bundle.
Ready to trial Movement? Let's talk!
Experience Movement free for 14 days on our digital platform, GSEonline.
For a personalized pricing solution, request a custom quote.
Still have Questions? Let's chat!
Join your students and explore the struggles and strengths of Black Americans who overcame formidable obstacles on their paths to freedom and equality.