Movement
A moving new way to learn about Black American history
Written and reviewed by Black scholars and experts, MOVEMENT, examines the cultural, social, political, and economic contributions, stories, and movements of Black Americans. MOVEMENT is a unique resource offered as both a five-volume series and a beautiful, hardback textbook. It is a social studies program that will engage and immerse students in Black American history. MOVEMENT highlights the obstacles and triumphs and cultural contributions of Black Americans who have shaped US history.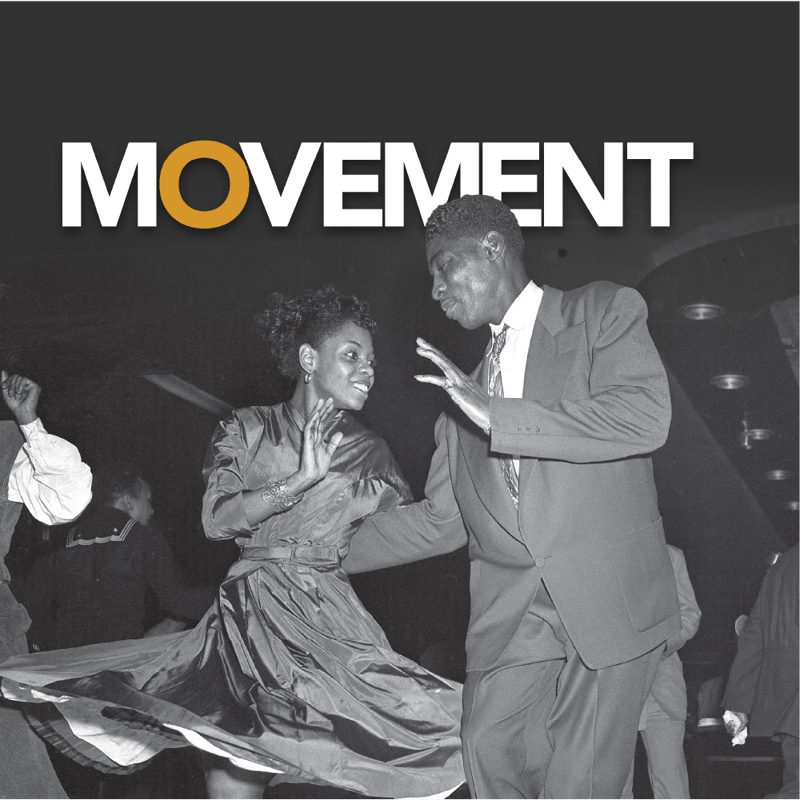 The word "movement" suggests flow, rhythm, power, and beauty.
A movement can be a stirring piece of music or an emotional inspiration. It can travel across oceans or trek with a family to a new town. With movement, buildings can topple as the earth shifts, or there can be a silent inward journey of personal transformation.
Blending Inquiry, Literacy, and
Social Studies Skills
Each volume of MOVEMENT examines an Essential Question through the lenses of history, economics, civics, geography, and culture. The curriculum features in both the Student Edition and Teacher Materials emphasize skills used to understand and interpret the diverse perspectives, events, and contributions of Black Americans that have shaped the United States. Each unit celebrates Black artists, writers, and leaders, explores injustice and progress, and scaffolds historical thinking skills.

Method for Mastery
Each unit includes Key Terms, Skill Objectives, and Content Objectives that scaffold to the Essential question. This feature also includes a preview of literacy strategies, rhetorical analysis opportunities, and writing activities found throughout the volume. This feature puts the student first and offers the roadmap to student success in meeting the Learning Goals.

Literary Luminaries
Literary Luminaries introduces students to thematically curated collections of Black poets, novelists, journalists, historians, creators, and songwriters who have influenced and shaped US culture and the way we think about life and the world around us.

Into the Archives
This feature directs students to analyze primary sources. These range from maps, letters, artifacts, and a variety of other primary documents. These activities prompt students to think critically and make connections to the modern world.

Connect It
The Connect It features are designed to connect history to the other social studies disciplines. Each unit includes unique connections to economics, people and culture, geography, politics, and civics. Through these activities, students can gain a more thorough understanding of the interconnected relationships between themselves, the past, and the present.

Consider This
MOVEMENT is an inquiry-based program that develops and encourages students to move beyond the text, toward higher-order understanding and analysis. This feature is an integral component of an inquiry-based arc and offers thought-provoking opportunities for students to express, justify, and interpret their opinions and ideas using evidence and analysis.

What Do You Think?
This feature promotes civic discourse by creating opportunities for students to develop and share their opinions with each other and the class as a whole in a constructive, logical, evidence-based way. Additional scaffolding is provided in the Teacher Guide to support students as they delve further into the content and concepts, gain additional perspective and insight, and move through the process of refining, and sometimes changing, their opinions.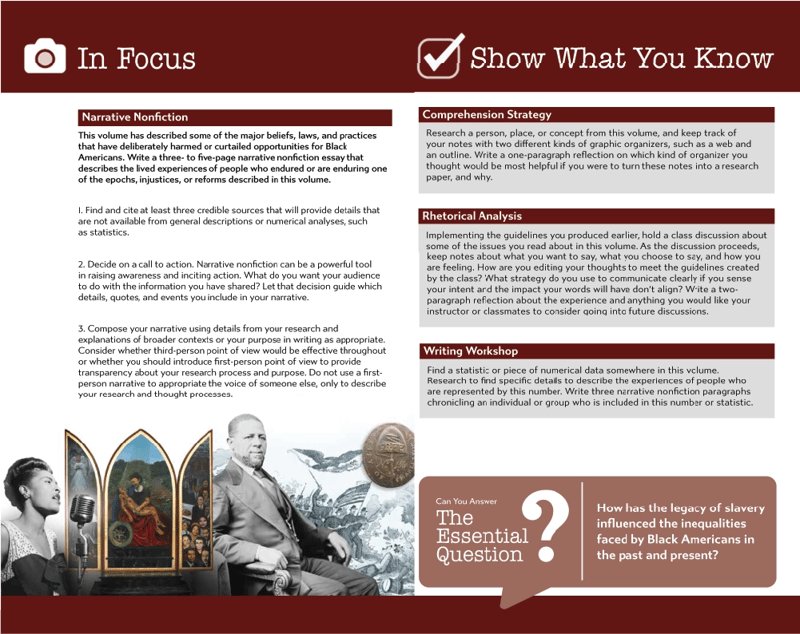 Formative and summative evaluation
Each unit contains articles that include a formative and summative assessments for both teachers and students to check their understanding of the content. The assessments include reading comprehension and critical thinking questions, as well as scaffolded writing, literacy, and rhetorical analysis activities. Teacher Materials include a multi-part summative and self-assessment and additional document-based questions. They also include free-response questions to both gauge understanding of the concepts and skills and prepare them for standardized tests and advanced-placement programs.
Multi-modal and differentiated learning
Our curriculum is anchored in the Student Edition and then scaffolded using backward design and an inquiry arc. The Teacher Materials feature an array of activity types such as hands-on, technology-based, and cross-curricular activities. Standards are covered in a variety of activities to allow for the utmost flexibility for teachers. The Teacher Materials include a variety of lesson activities to support different learning modalities, differentiation strategies for advanced and approaching-level learners, and modifications and adaptations for multi-language learners.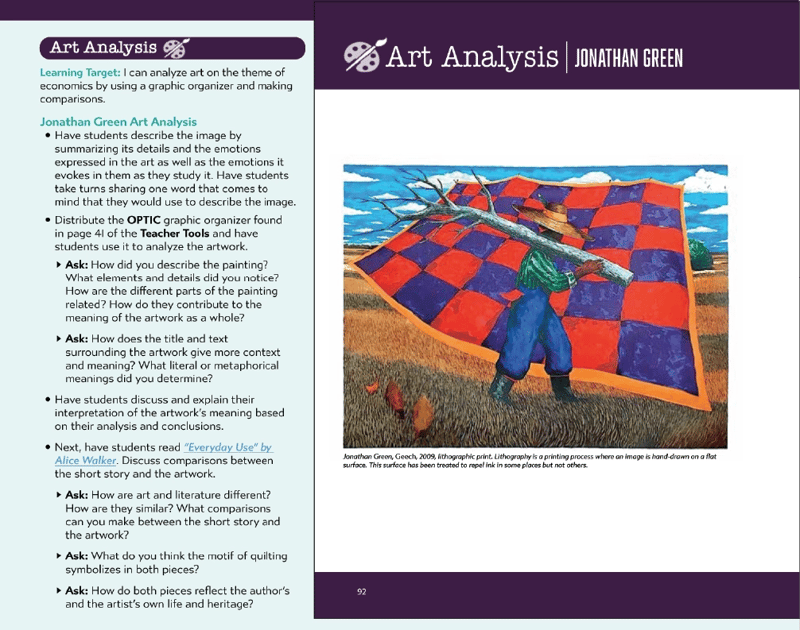 MOVEMENT
All 5 individual volumes are combined into a single basal program.
5-Volume Collection Student Edition
Purchase the complete five-volume set of MOVEMENT, conveniently bundled together for your ease.
Ready to trial MOVEMENT? Let's talk!
Experience MOVEMENT free for 14 days on our digital platform, GSEonline.
For a personalized pricing solution, request a custom quote.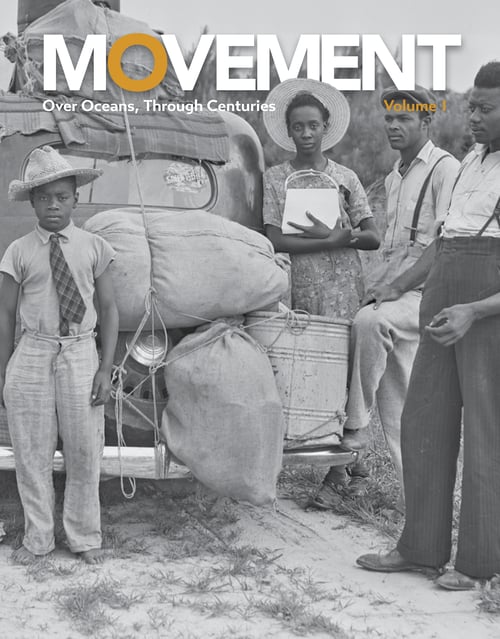 Over Oceans, Through Centuries
Investigate the effects of people of African descent moving (both involuntarily and voluntarily) to and through North America. Features include:
• Black Americans and the West—from Black Cowboys to Buffalo Soldiers
• Reverse Migration—a modern return to the South
• Literary Luminaries—poets include Paul Laurence Dunbar, Langston Hughes, Maya Angelou, Amanda Gorman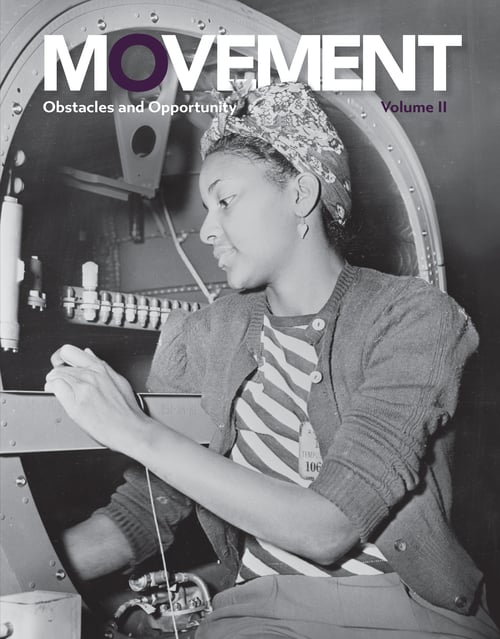 Obstacles and Opportunities
Analyze how Black Americans have shaped and been shaped by economic policy and opportunity. Articles include:
• Black Inventors—with the likes of Sarah Goode, Alice Ball, and Patricia Bath
• Into the Archives—the Black Panther Party, "To Feed Our Children,"
• Black Songwriters—including Nina Simone, Stevie Wonder, Tupac Shakur, Alicia Keys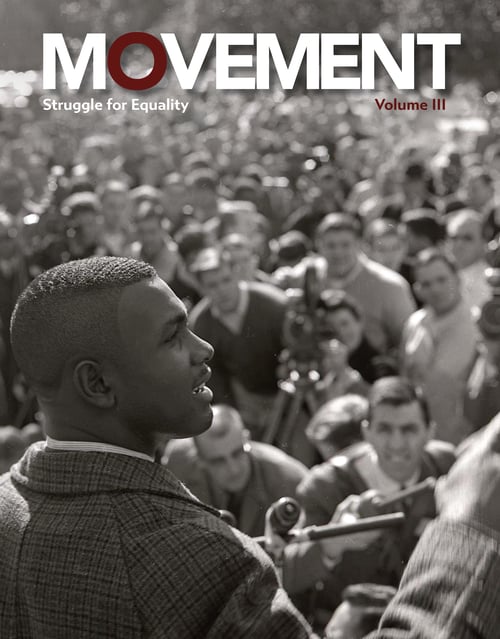 Struggle for Equality
Examine the legacy of slavery and how it influenced the inequalities that Black Americans faced in the past and present day.
• The Myth of Race—race as a social construct and its impacts
• Inequality in the Criminal Justice System—the 13th amendment and convict leasing, racial profiling, and the impacts of crime and drug policies
• Art Analysis—Gordon Parks' social justice photography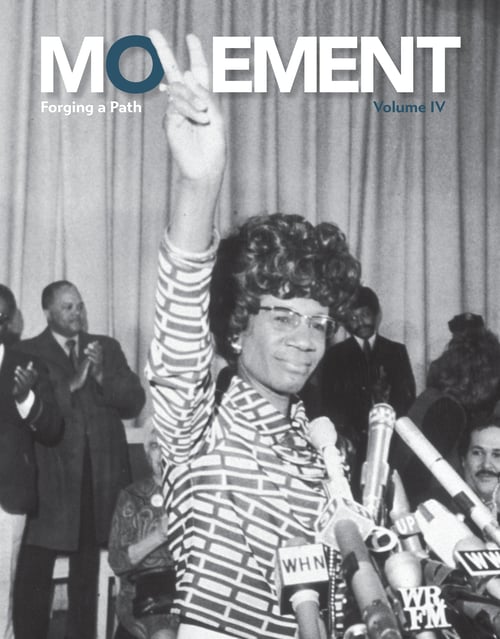 Forging a Path
Delve into the stories of Black leaders who paved the way toward a more just and equitable society in the United States.
• The Niagara Movement—Black activists in the Progressive Era
• Political Leadership—Hiram Revels, Shirley Chisholm, L. Douglas Wilder, Condoleezza Rice, Barack Obama, Kamala Harris
• Black Americans in War—from the Revolutionary War to Afghanistan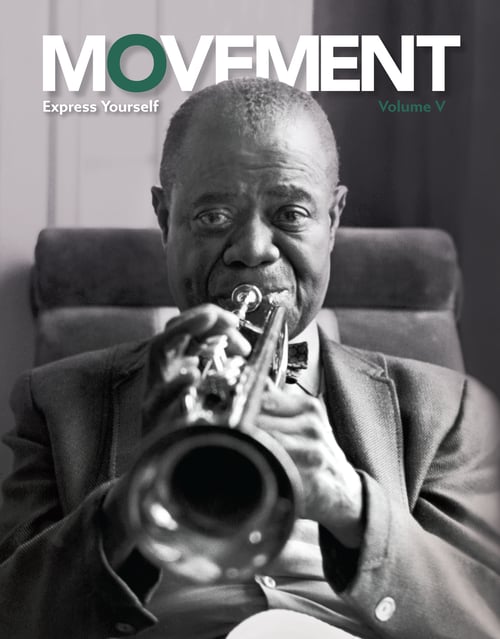 Express Yourself
Explore the many ways that Black Americans have shaped our art, music, culture, and identity.
• The Black Church—from Great Awakenings through the Civil Rights Movement
• Hip-Hop Music—the evolution of styles, East Coast v. West Coast, rap music, expansion into a global phenomenon
• Black Media—from Soul Train, BET, Oprah through Jordan Peele
• African American Foodways—the origins and influences of soul food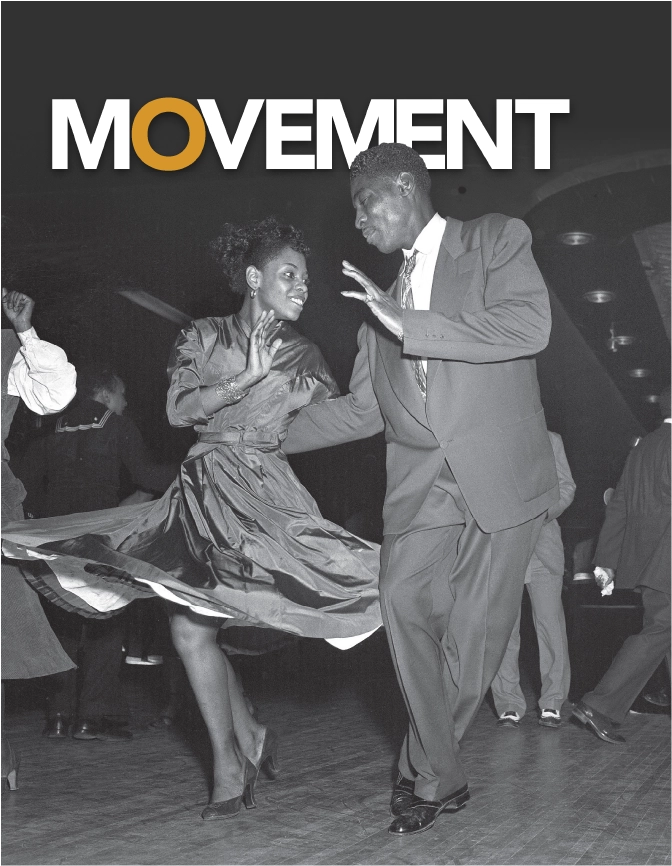 Movement Textbook Edition
Movement thoroughly supports the AP African American Studies framework, taking an interdisciplinary approach and exploring the contributions and experiences of Black Americans in many different fields. The content spans from ancestral roots in Africa and its kingdoms to the struggles and triumphs of the present day. Students will explore the Black experience from multiple lenses, examining the roles of geography, economics, politics, literature, and art on Black life and culture. Covering a wide range of topics and perspectives in a challenging yet accessible way, Movement is the perfect companion text for AP African American Studies.
Still have Questions? Let's chat!
Join your students and explore the struggles and strengths of Black Americans who overcame formidable obstacles on their paths to freedom and equality.